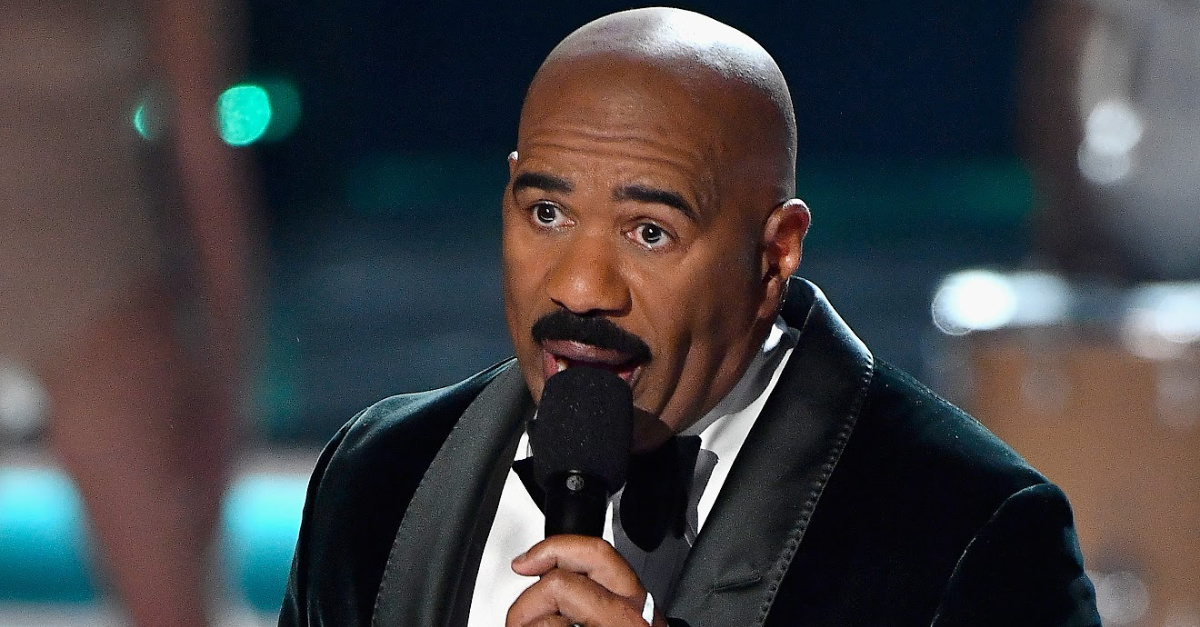 Family Feud host Steve Harvey delivered a faith-filled monologue to audience members during a recent taping of the show, telling them that God has given every person on Earth a unique "gift" they were "built" to use.
"Every living soul God created at birth, He gave all of you a gift," Harvey told the audience.
Harvey's official YouTube channel posted a video of his remarks, which were not broadcast and were made only to audience members during a break in recording the show. Harvey's YouTube channel, which has 1.5 million subscribers, often posts his motivational comments – which often are faith-based. Harvey is a professing Christian.
Harvey said there is a distinction between talent and gifts.
"You gotta stop focusing on your talent. The key is to locate your gift," he said. "… What are you gifted at is your quest. Young people – you have to identify your gift. Therein lies your greatest chance for success.
"… All of you in this room are gifted," he said. "All of you are gifted. All of you are gifted individuals. Teaching is a gift. Networking is a gift. Working with your hands is a gift. Being a caregiver is a gift. Babysitting is a gift."
As an illustration, Harvey mentioned a childhood friend nicknamed "Clippers." Clippers was talented at dancing, but he was gifted at cutting grass, Harvey said.
"All he did was cut grass," the Family Feud host noted. "Every time we went somewhere – 'Man, you going with us? – No, I've got to cut Miss Jackson's grass.' He charged $2 for the front, $2 for the back. … He was so gifted at cutting grass – and all he had was a push lawnmower."
Today, Clippers owns a multi-million dollar landscaping business in Cleveland, Harvey said.
"Your gift may be frying chicken. Some of y'all bake pie. Some of ya'll do hair. Some of y'all fix cars. Some of y'all paint. Go do that. Go do that. Do your gift. … You were built to do your gift. Discover your gift [and] change your life. That's the secret."
Harvey's motivational speeches aren't always G-rated – some include profanity – but they frequently reference his faith. During a February video, he said the Bible changed his life.
"The Bible is essential," he said. "Every self-help book is written off the principles of the Bible. Don't you let nobody fool you."
Photo courtesy: ©Getty Images/Frazer Harrison/Staff
Video courtesy: ©The Official Steve Harvey YouTube Channel
---
Michael Foust has covered the intersection of faith and news for 20 years. His stories have appeared in Baptist Press, Christianity Today, The Christian Post, the Leaf-Chronicle, the Toronto Star and the Knoxville News-Sentinel.